Map Unavailable
Date/Time
Date(s) - 23/03/2021
11:00 am - 12:00 pm
Categories No Categories
What is the outlook for our regional economy and how might it affect the residential rental market? Two leading economists offer their perspectives on where we have been and where we might be headed. It's essential for property managers to be informed so we can properly advise our clients. Even better, invite your clients as guests.
Speakers:
Nick Baldi
Vice President of Business Development
Greater Sacramento Economic Council
916-287-9080
nbaldi@greatersacramento.com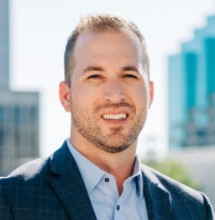 Nick Baldi serves as the Vice President of Business Development for the Greater Sacramento Economic Council. In his role, Nick is responsible for managing and directing the development of leads, proposals and site visits with prospective companies both locally and globally to increase business investment and job creation through Greater Sacramento.
In this position, Nick builds and maintains relationships with business and community leaders, commercial real estate professionals, site selection consultants and strategic partners to ensure each client receives a seamless experience while relocating to or expanding into the region.
Most recently, Nick was an Asset Manager for Buzz Oates, a Sacramento-based commercial real estate development and investment firm, where he was responsible for asset management and value growth of a commercial property portfolio totaling over 3.5 million square feet located throughout Northern California. While at Buzz Oates, Nick oversaw the development process of several new projects, from initial market study and design to building construction and lease up, and has a solid understanding of what makes a project successful for both the owner and the client. Nick has expertise working with both small and local companies as well as with large international corporations to assist them with their facility planning needs. Several notable companies Nick has worked with include Amazon, Staples, Bimbo Bakeries, Tesla Energy, Coca-Cola and DBI Beverage.
Prior to that, Nick was a Structured Finance Partner with Palmer Capital, an independent real estate capital markets firm that specializes in the acquisition, disposition, financing and capitalization of commercial real estate throughout the Western United States. In this role, Nick primarily worked with lending institutions and commercial real estate investors to structure their debt capital solutions and provide transaction advisory services.
Nick began his career with Fulcrum Property, a Sacramento-based commercial real estate development and investment firm whose projects include The Bridge District, Golden 1 Center and the Ice Blocks. There, he helped manage a portfolio of notable retail, office and mixed-use urban infill projects located throughout the Sacramento and San Francisco Bay areas.
Nick earned his B.A. in Economics from the University of California, Santa Cruz, where he also played for the UCSC Men's Rugby Club. Nick was the 2017 Chair of the Developing Leaders Committee for the NAIOP Sacramento Valley chapter and is an active member of the Urban Land Institute (ULI) and the Association of Commercial Real Estate (ACRE).
A native of the Sacramento region and a father to three boys, Nick and his wife can often be found on their next Northern Californian adventure, and sneaking to a craft brewery in-between them.
Sanjay Varshney, PhD, CFA
Founder and Principal, Goldenstone Wealth Management
Professor of Finance, CSU Sacramento
(916) 799-6527
sanjay@goldenstoneweath.com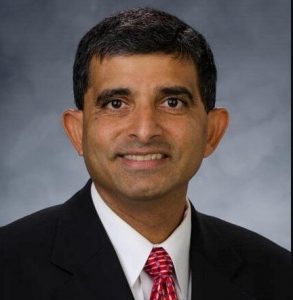 Dr. Varshney brings three decades of proven investment expertise and sophistication to his clients. Prior to founding Goldenstone, he was a senior wealth management executive for several years at Wells Fargo Private Bank, serving as a Senior Vice President and a Senior Investment Strategist for California and Nevada, providing thoughtful leadership and investment strategy for over $200 billion in assets.
He has also served as Vice President for Economic and Regional Partnerships, Dean of the College of Business Administration at Sacramento State for 10 years, Professor of Finance at University of San Francisco, Dean of the Business School at State University of New York in Utica, Owner and Founder of a Registered Investment Advisory firm in Syracuse, and consultant at other firms including Arthur Andersen.
Dr. Varshney is also a Professor of Finance at Sacramento State, Founder/Chief Economist of the Sacramento Business Review, and has been a widely sought out consultant on business and economic impact studies. Dr. Varshney earned an undergraduate degree in accounting and financial management from Bombay University, a master's degree in economics from the University of Cincinnati, and a PhD in finance from Louisiana State University in Baton Rouge. He also holds the Chartered Financial Analyst (CFA®) designation.
Dr. Varshney has been widely featured and quoted on both local and national media. He has published extensively in magazines, newspapers, and professional journals including the Financial Analysts Journal.
Moderator:
Jim Lofgren
CEO
Lofgren Company
(916) 549-5052
Jim Lofgren is CEO of Lofgren Company which provides consulting services for businesses, non-profit organizations and government agencies.  These services include government relations, strategic planning, media relations, conflict resolution and project management.
Prior to establishing his own business, Lofgren served for 20 years as Executive Director of the Rental Housing Association of Sacramento Valley and later as Senior Vice President of the California Apartment Association following with merger of the two organizations. He also held management positions with the Building Industry Association, Associated General Contractors, Institute of Real Estate Management, and University of California Student Association.
In the private sector, Lofgren served as a manager within the AT&T network of companies and as controller for Anrak Corporation, a Sacramento-based road construction company.
Lofgren is a graduate of the University of California, San Diego with a Bachelor of Arts in history. His continuing education includes accounting and business coursework at CSU Sacramento and Western Governors University.
He lives in Folsom, California with his wife, Martha, and is the proud father of two daughters, Julie and Kayleen.
SPONSORED BY